College Pulse Career Poll Reveals 69 Percent of US College Students Want a Career That Makes a Difference
Important Findings for Companies Looking to Hire Gen Z
A new poll of over 20,000 college students asked students how much they think different occupations contribute to society's well-being. Medical doctor ranked highest among college students with 84 percent saying doctors contribute a great deal to society. Engineer (83 percent) is nearly tied for second with teacher (82 percent) followed by scientist (76 percent), construction worker (61 percent), and law enforcement (57 percent). Consultants (11 percent), politicians (14 percent) and financial advisors (22 percent) rank among the lowest of the 16 occupations included.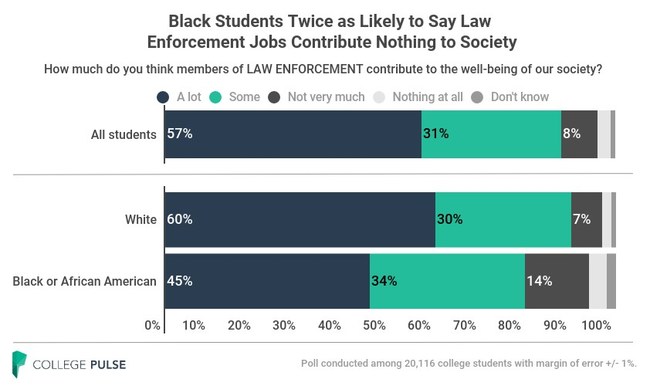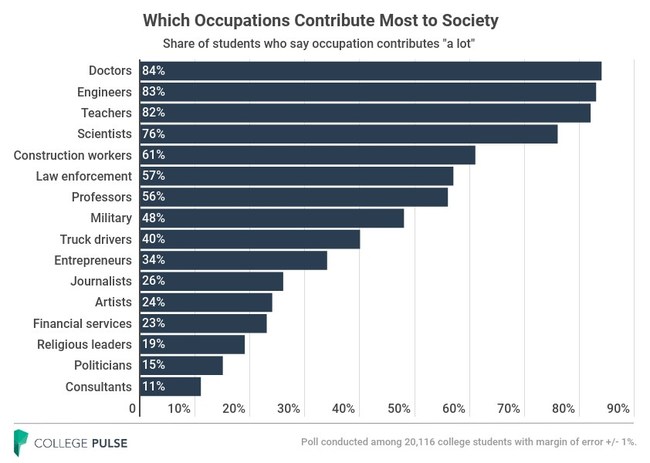 These results have serious implications for organizations looking to hire students. Most students (69 percent) say having an occupation that contributes to society is "extremely" or "very" important to them.
HR Technology News: ISG Launches Expanded Women in Digital Program
"Our results demonstrate a clear trend: college students aspire to make a difference in society. Employers and brands need to know that money alone is not what will motivate America's future workforce," said Terren Klein, CEO of College Pulse. "We are entering the age of the socially-conscious professional."
The new survey, conducted by College Pulse, a leading online survey research and data analytics company dedicated to understanding the attitudes, preferences, and behaviors of today's college students, was based on a sample of 20,116 college students who are part of College Pulse's American College Student Panel. The panel includes 240,000 students representing more than 800 campuses in all 50 states. Full results and rankings from College Pulse's survey are accessible on College Pulse's The Pulse blog.
HR Technology News: Phenom People Unveils Talent Experience Management Platform
Further data from the survey also reveal insights into how different student demographics view different occupations:
Students from the top 50 universities are twice as likely as other students to say people who work in financial services contribute "not very much" or "nothing at all" to society.
40 percent of men believe entrepreneurs contribute "a lot" to society's well-being, compared to 30 percent of women.
61 percent of white students vs. 45 percent of black or African-American students say members of law enforcement contribute "a lot."
"We conducted this study to understand the potential future makeup of America's workforce," said Klein. "We hope our findings can help organizations better recruit, engage, and inspire college students."
HR Technology News: HR Payroll Systems Announces Launch of Redesigned Website