Core HR refers to the basic human resource functions that any company using human capital needs to have in place. The management of human resources functions has become a crucial aspect of the organizational management process. HR professionals have evolved and somewhat have become active and strategic business partners, and many of a company's HR needs can be met through cloud-based HR software. This software can cover all aspects of human resources management, from recruitment and retention to payroll.
All the above diverse entities i.e., HR functions, information, and software come together to define Core HR. The responsibility for defining and designing this work lies with the human resources manager, and manual completion of these tasks requires a combination of Human Resources Management (HRM) and Human Capital Management (HCM). HR Management Software, which manages the management of HR functions such as recruitment, retention, and payroll, is subject to industry regulations and must comply with the Human Resources Management Act (HRMA) and other regulations.
Core HR Software
There are many platforms that can reduce the administrative burden of performance management, including payroll, payroll management, human resources management, and human capital management. This software helps to store employee information in a database, makes it easy to create employee profiles, and uses it to extract reports. They offer to reduce the administrative burden and while some of these programs can be considered central HR software, but you can also use them in other ways, such as in the form of business intelligence and data analysis.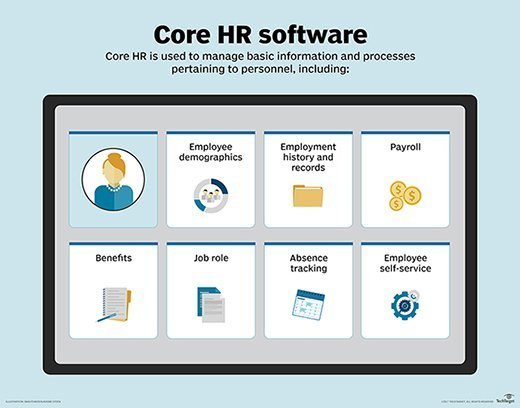 By implementing strong HR software, you ensure that all essential private employee data is stored in a secure, centralized location to organize the data, automate repetitive HR tasks, and create reports as needed. Some of this software also exhibit self-service functions of the employees, and not only contributes to creating a positive employee experience but also relieves the personnel teams of tedious tasks.
Read More:
Core HR Information
We have looked at core functions across a wide range, including HRIS software and HCM systems, but we have focused mainly on core HR functions, which typically include HR, payroll, and human resources management. The core areas of human resources include paid time management and social benefits, as well as the management of employees' personal and professional relations with their employers.
The term "Core HR" also refers to the central HR software and technology used to manage and manage basic human resources information and processes. HR data in the sense that it includes all personnel information necessary to legally employ and manage employees. It is often integrated into automated payroll systems such as HRIS and HCM but is also considered as the back-end software, as opposed to the strategic side, which deals with things like training and recruitment. Additionally, Administrators and users need to be trained to understand the workflow, setup, and individual capabilities of the system, as well as how employees and other employees use it.
Core HR Functions
Though functions vary from seller to seller and individual applications, key HR platforms generally store essential information about the employees of a company in a consolidated database. The database includes personal details such as addresses of the employee, birth dates, social security numbers, national identity numbers, as well as other employee information.
As significant structural changes emerge in the field of jobs and HR technologies, the human resources department will play an important strategic role within the enterprise. Many companies consider the core HR software to be key in this transition as it allows resources to be spent previously in routine tasks that take time.
Read More: Jobvite, JazzHR, and NXTThing RPO Join Forces to Create Market Leader in Talent Acquisition