Thinking of home as the new workplace has put most HR teams in a driver's seat when it comes to controlling and coordinating various aspects of business operations.  From creating space online for smooth employee communications to managing challenges related to talent management (hiring, onboarding and attrition / RIFs), HR teams are using a mix of HR technology tools and platforms to effectively manage the organizational goals at the people's level. Like their peers in the Marketing, Sales, IT and Finance, HR teams too have a solid reason to leverage AI, Machine Learning, Automation and Data Science to upgrade their people analysis and enhance vision of how their various policies affect human capital management. With demands for personalization and DEI at an all-time high, HR teams have a solid reason to sought powerful analytics tools to create a purposeful workforce in the 'new-normal' era of business operations. That's why we are focusing on the current definition of HR Analytics and the top HR analytics software makers available today for enterprise consumption.
Read More: Top Employee Productivity Tools To Work More Efficiently in 2021
HR analytics is one of the fastest-growing areas in the HR technology space. By definition, HR analytics consists of data analytics and statistical tools and software for analyzing various aspects of HR operations, people information and experience management. The purpose of using HR analytics tools is straightforward — to gain new insights into various HR practices and improve the effectiveness of strategic decision making within the organization.
What is HR Analytics?
In the modern context of HR technology landscape, HR analytics could mean different things to different organizations.
Here's a standardized definition of HR analytics:
"HR analytics is a functional term used within an organization to describe the scientific process of mining, monitoring, processing, analyzing and reporting human resource (HR) data to gain actionable insights into various HR functions with an objective to improve those HR functions by effectively controlling and coordinating workforce with suitable talent management and employee experience management that benefit organization's productivity and value."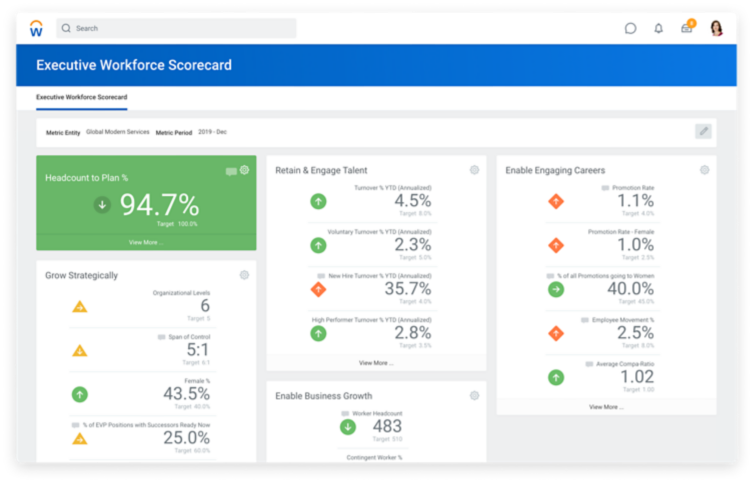 In generic terms, HR analytics is a subset of business analytics that is used by HR managers to identify and anticipate disruptive trends within the organization using advanced data science tools and software capabilities. These could leverage advanced data mining, predictive analytics, and other scientific techniques to monitor, analyze and report information in the most interactive and convincing manner.
Recommended: PEOPLE MANAGEMENT>> HR Tech Primer on "What is Outplacement": Definition, Scope and Trends
HR analytics tools should be able to provide insights on critical people-centric questions from these areas:
Staffing and Recruiting
Workforce Demographics and Diversity
Workforce Productivity
Workforce Health and Safety
Workforce Relations and Satisfaction
Workforce Turnover
Talent Mobility
Workforce Planning
Workforce Remuneration
Employee Benefits
Training, Learning and Development
HR Function
Benefits of using HR analytics software
There are many tactically important benefits of using a HR analytics software, some of which have been clearly understood by the managers during the COVID-19 pandemic. Here's a list of benefits of using HR analytics software:
Highlighting the performance of various HR practices
Improving Hiring and Onboarding practices
Enhancing employee experience and engagement levels
Automating HR admin tasks
Data visualization
Real-time analytics on employees, managers and contractual workers
Real-time monitoring of employee relationship, communications and team dynamics
Performance appraisal management, based on Managerial feedback, leaves management, and so on.
Top HR Analytics Tools of 2021 and How they Define HR Analytics
SAP SuccessFactors Workforce Analytics
SAP SuccessFactors Workforce Analytic is also known as SAP HR analytics.
SAP SuccessFactors Workforce Analytics is one of the top-most providers of HR analytics software. It has earned a reputation among HR managers for delivering accurate workforce intelligence using advanced Cloud-based people analytics solutions.
Read Also: Creating a New Digital Workplace Experience: Introducing SAP Work Zone for HR
How SAP defines HR analytics?
HR Analytics is part of a workforce planning model, which means it's a data-driven method for "forecasting, analyzing, and assessing the potential outcomes of planning decisions."
What makes SAP HR analytics so powerful?
SAP Analytics Cloud software provides financial modeling as well as impact analysis tools for strategic workforce planning. Having a bird's eye view of workforce planning outcomes helps customers to prepare for future employee needs, especially during uncertain times resulting from pandemic lockdown, mergers and acquisitions and relocating to a new region. HR teams can use various advanced features of SAP HR analytics to accurately calculate current and future workforce demands, test changes to compensation and benefits, compare the results of plans, policies, and strategies, and so much more.
Today, SAP serves HR professionals, analysts, and business partners with data-driven insights and an evidence-based approach to HR. SAP cloud analytics package includes HR analytics, augmented analytics, predictive analytics, and enterprise planning – in a single solution.
Top features:
Standardized HR analytics, tracking from 2000+ HR and talent metrics
Advanced data-driven insights into all of a company's HR processes
Interactive HR analysis with advanced reporting and personalized dashboards to share relevant information
Real-time integration from other business analytics tools, like HRIS, Corporate Communications, Finance and IT
Superior HR data security that can be seamlessly integrated, monitored and upgraded with your modern IT infrastructure — a key feature to meet the rising demands of working from home remotely.
Oracle PeopleSoft
Oracle has been in the business of HCM reporting and analytics for a very long time. In fact, it's considered as a pioneer in HR ANALYTICS. Oracle PeopleSoft Workforce is an analytics-based platform that provided various features to measure, manage, and maximize workforce performance.
PeopleSoft offers these applications:
PeopleSoft Workforce Rewards for employee rewards and compensation planning
PeopleSoft Workforce Planning to manage and coordinate workforce competencies
PeopleSoft Workforce Scorecard for assessing the impact of your workforce on enterprise operations
Other popular applications that integrate with workforce analytics are:
PeopleSoft Enterprise Pension Administration
PeopleSoft Global Payroll
PeopleSoft Payroll for North America
PeopleSoft Human Resources Manage Base Benefits
PeopleSoft Enterprise Benefits Administration
Here's the link to a useful video on how PeopleSoft HR Workforce Insight Analytics works.
IBM® Watson™ Talent Insights
We can always trust IBM data scientists to create the best-in-class HR analytics for the pandemic era. And they did! It's called IBM Watson Talent Insights.
IBM Watson Talent Insights is powerful HR analytics software that accelerates people decision pipeline with sophisticated data analytics placed directly into the hands of HR users. Powered by AI and machine learning capabilities, IBM's Talent Insights not only uncovers answers to critical workforce questions but also predicts the impact of various HR decisions on employee engagement and experience.
Workday HCM Reporting and Analytics
World's leading companies like AON, Acxiom, Airbus, AstraZeneca, HP, Comcast, FedEx and Levi Strauss use Workday as their preferred enterprise HR cloud suite. Reason: Workday provides one of the most advanced and data-driven HR analytics software suites supporting breakthrough results in Financial Management, HCM and Enterprise Planning.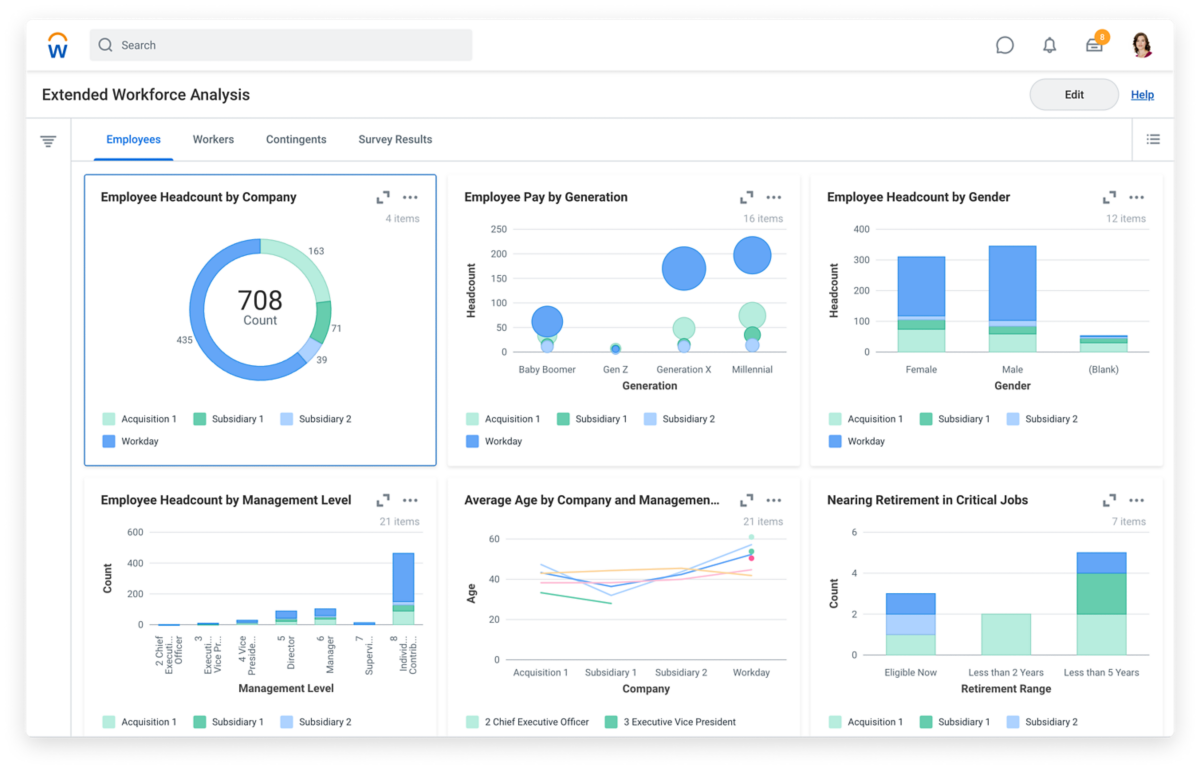 What's the top reason to adopt Workday HCM Reporting and Analytics?
To gain comprehensive visibility into workforce analytics in a single system with automated analysis, drop-down features and boost diversity.
ADP Workforce Now
ADP Workforce Now is part of the ADP Data Cloud.
ADP's HR Analytics tool uncovers the hidden workforce insights that could greatly influence the outcome of various business operations in the pandemic era. Built on the core foundations of AI and Machine Learning, ADP Workforce Now inherits the capabilities of its more established sibling- ADP Data Cloud, enabling HR managers to easily run reports and extract business-critical information, patterns and trends related to hiring, payroll, talent management, HCM and benefits data.
Here's an informative video on how ADP Workforce Now works.
Alternatives
Here are some key players in the HR analytics industry that you can explore.
Microsoft Agile HR Analytics – Power BI Dashboards
Paylocity
BambooHR
UKG Workforce Central
Gusto
Ceridian
Paycor
Zenefits
IntelliHR
Cornerstone HR
Sift
[To share your insights on the latest HR tech trends and tools, please write to us at sghosh@martechseries.com]