Supplemental Health Care Receives Its Highest Satisfaction Ratings
Delivers World Class Service
Supplemental Health Care (SHC), a leading healthcare staffing firm in the United States, announced the company closed its fiscal year 2019 with its highest talent satisfaction ratings yet.  In Q4 of fiscal 2019, the company's Net Promoter Score elevated it to World Class service status.  As a point of comparison, SHC's satisfaction rating of 71.4% was significantly higher than the Healthcare Staffing NPS average of 19%.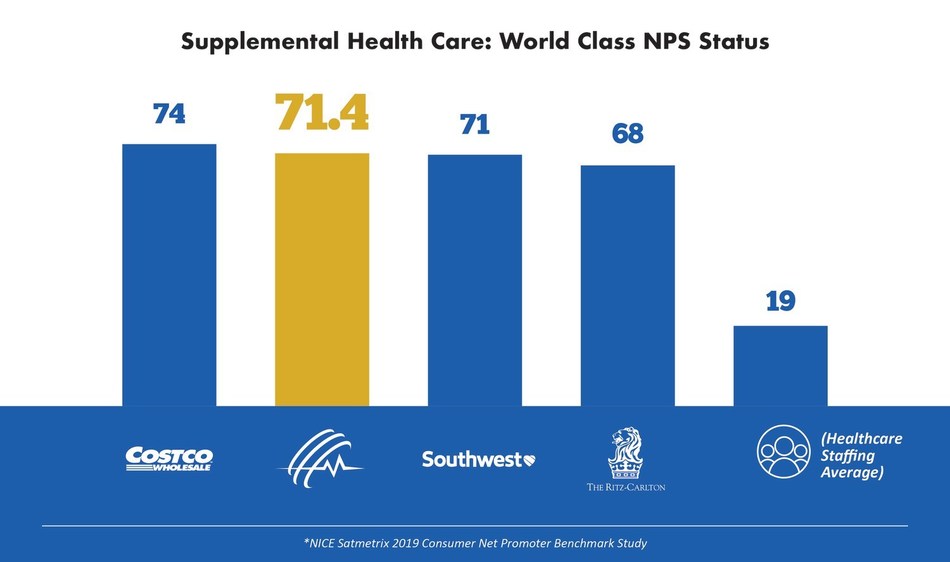 "SHC is focused on providing world class service to everyone we work with," said Lesa Francis, President and CEO.  "Our team is passionate about exceeding expectations and it's great to see that our talent feel we are going above and beyond for them.  Our goal is to continue to raise the bar so that we are setting the standard for excellence in our industry."
HR Technology News: Bongo Announces Automated Capabilities with Launch of Auto Analysis
SHC has partnered with ClearlyRated to conduct regular surveys of the healthcare professionals working with them.  Earlier this year, the company announced it had won the prestigious Best of Staffing Client and Talent awards. Best of Staffing winners have proven to be industry leaders in service quality based entirely on ratings by their clients and the candidates they've helped find jobs. Less than 2% of all staffing agencies in the US and Canada have earned the Best of Staffing Award for service excellence.
HR Technology News: US Workers See Undeniable Value in Stem Education and Skills