Private sector employment increased by 102,000 jobs from May to June according to the June ADP National Employment Report.  Broadly distributed to the public each month, free of charge, the ADP National Employment Report is produced by the ADP Research Institute in collaboration with Moody's Analytics.  The report, which is derived from ADP's actual payroll data, measures the change in total nonfarm private employment each month on a seasonally-adjusted basis.
HR Technology News: Symphony Talent Launches Industry's First Full-Path Analytics
June 2019 Report Highlights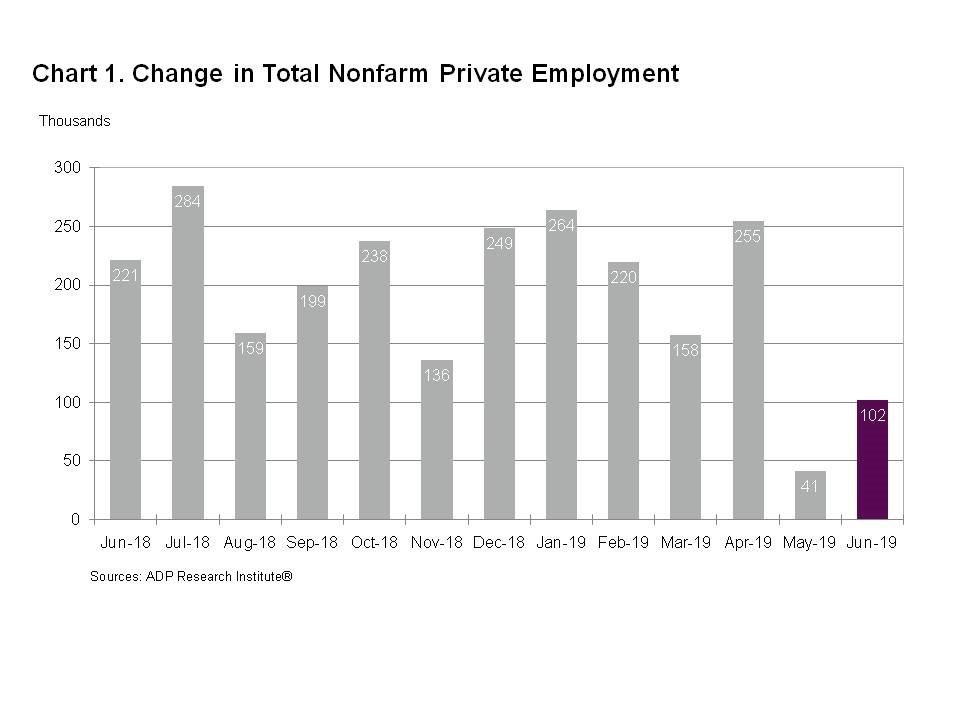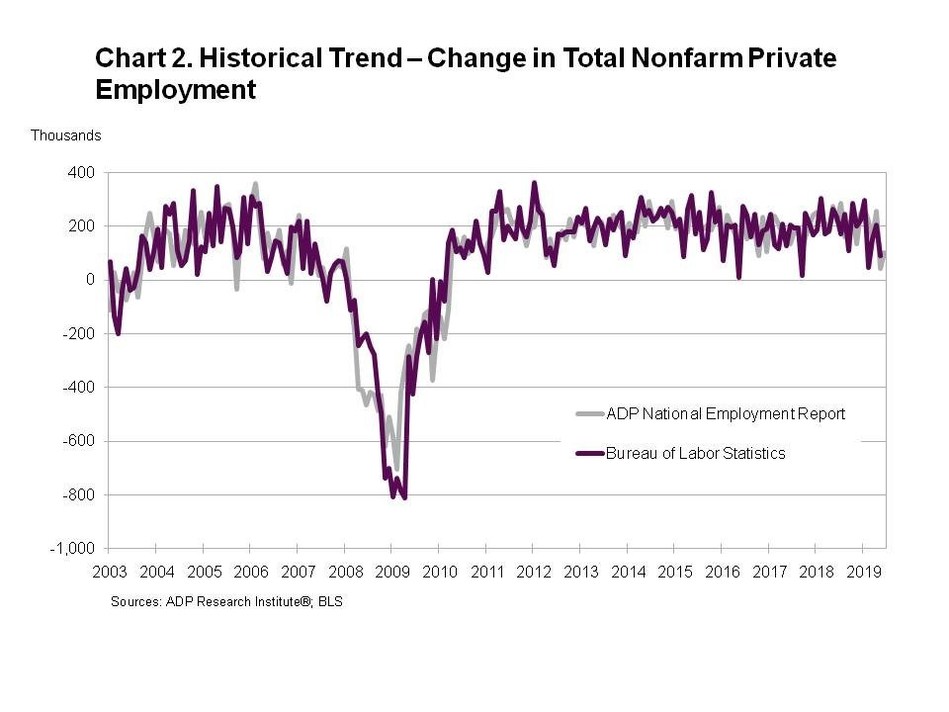 Total U.S. Nonfarm Private Employment:     102,000
By Company Size
– Small businesses:      -23,000
1-19 employees     -37,000
20-49 employees     14,000
– Medium businesses:     60,000
50-499 employees     60,000
– Large businesses:     65,000
500-999 employees     30,000
1,000+ employees     36,000
By Sector
– Goods-producing:     -15,000
Natural resources/mining     -4,000
Construction     -18,000
Manufacturing     7,000
– Service-providing:     117,000
Trade/transportation/utilities     23,000
Information     -3,000
Financial activities     7,000
Professional/business services     32,000 
     – Professional/technical services     16,000 
     – Management of companies/enterprises     4,000
     – Administrative/support services     12,000
Education/health services     55,000 
     – Health care/social assistance     39,000 
     – Education     16,000
Leisure/hospitality     3,000
Other services     0
* Sum of components may not equal total, due to rounding.
– Franchise Employment**
Franchise jobs     13,500
HR Technology News: California Dreamin': Golden State Is the Most Popular Among UK Jobseekers
"Job growth started to show signs of a slowdown," said Ahu Yildirmaz, vice president and co-head of the ADP Research Institute. "While large businesses continue to do well, small businesses are struggling as they compete with the ongoing tight labor market. The goods producing sector continues to show weakness. Among services, leisure and hospitality's weakness could be a reflection of consumer confidence."
Mark Zandi, chief economist of Moody's Analytics, said, "The job market continues to throttle back. Job growth has slowed sharply in recent months, as businesses have turned more cautious in their hiring. Small businesses are the most nervous, especially in the construction sector and at bricks-and-mortar retailers."
The matched sample used to develop the ADP National Employment Report was derived from ADP payroll data, which represents 411,000 US clients employing nearly 24 million workers in the US The May total of jobs added was revised up from 27,000 to 41,000.
HR Technology News: "O Captain! My Captain!" Mike Abrashoff, Former Navy Captain and Leadership Expert, to Command the Main Stage at ConneXions 2019